BUFFALO BILLIARDS LEAGUE GALLERY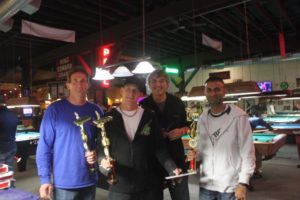 1st Place Wednesday night cash league Phil, Jeff, Billy, and Shan. $1200 cash winners. Not pictured: Dennis Wilkinson
2nd Place Wednesday Night cash league Manny, Tyler, Bruce, Cort, Lennie and $600 cash winners
3rd Place (not pictured). $500 cash.
Jeff Nystrom Top shooter, Wednesday night cash leagues with $1300 Predator cue.
Jeff Nystrom with Shan Damani (2nd). Jeff won by one point over 10 weeks
James Herman, winner of the Wednesday Night cue raffle: a $650 Viking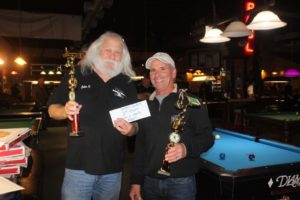 John and Marty, Scotch Doubles 1st prize winners of $500.
2nd Place Scotch Doubles Ray and Valerie Brown